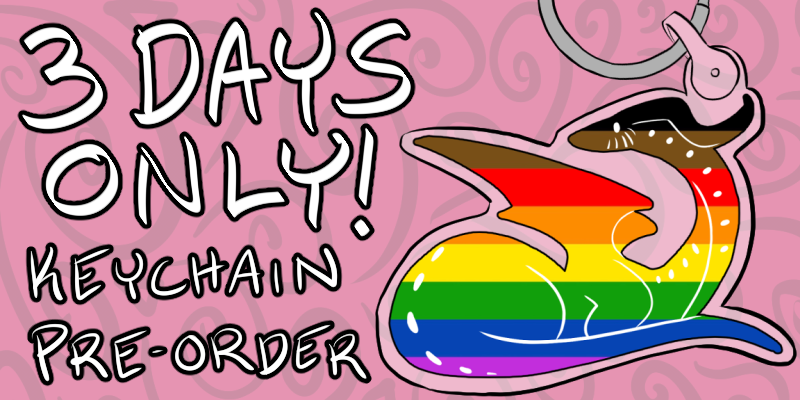 They're here – and they need your support!
For folks who liked my blue baby dragon keychains, you're gonna LOVE these new Pride Baby keychains! They're the same size as the blues, roughly 2 inches square (not counting the keyring). Plus they're printed on one side in sturdy, clear acrylic. They also come with a protective film on the front to save the babies from scratches.
Why make a Dragon Baby keychain with LGBTQ+ pride colors? Well, to let folks know that they're not alone. That they can be brave AND adorable at the same time. And if people take issue with that? Well, a baby dragon is still a dragon. Never meddle in their affairs (for humans are crunchy and good with ketchup).
Anyway, these babies are now up on Crowdfundr for 3 DAYS ONLY!
Why Crowdfundr?
While Crowdfundr is new (to me, and I'm sure to you, too), they're actually sponsoring this year's Small Press Expo – a show I'm going to!
I also spoke with a representative from Crowdfundr. These folks have worked with other comics artists, so they know what creators like me (and patrons like you) are looking for in a campaign.
Also…the platform is smooth as heck to work in. AND you can mix and match your own reward bundles!
Do you want just a keychain? You can do that. Or maybe a sticker, keychain, AND a painting? You can do that, too! Want 15 keychains and a page from Dragons: A Sketchbook? Make it happen! I'm already in love with Crowdfundr because of this mix-and-match reward system alone.
I hope you give this new platform a try – and I hope you support these Dragon Baby Pride Keychains!
If you're broke, check out the campaign and click the share buttons. There are a TON of options, yo.
That's all for now. Thank you for your support!
You. Are. Awesome.