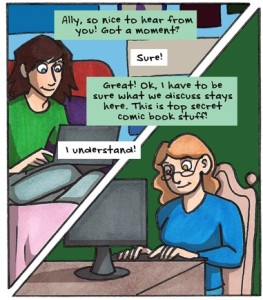 During Phoenix Comicon, Christian and I were interviewed for many, many sites.
Now, I finally have some links to share with you.
First off is the review at Land of the Nerds for our webcomic Validation. The review also discusses the "Fake Geek Girl" phenomenon and how our webcomic tackles that issue.
Then we got an interview with Watch Play Read discussing our webcomic, ladies creating comics,  and getting published. The photo there makes me look like a class-A dork, but that's ok.
And Christian and I got interviewed by Comic Book Resources about the making of Validation.
It was awesome to be interviewed by so many cool and smart people.
Thank you to the interviewers, to the websites and their readers, and especially to you, reader.
You're awesome!