It's time for Genghis Con once again, kids!
This will be my return to the show proper since 2019. They did not run in 2020 for obvious reasons, and in 2021 they did small pop-up events to keep crowds more manageable.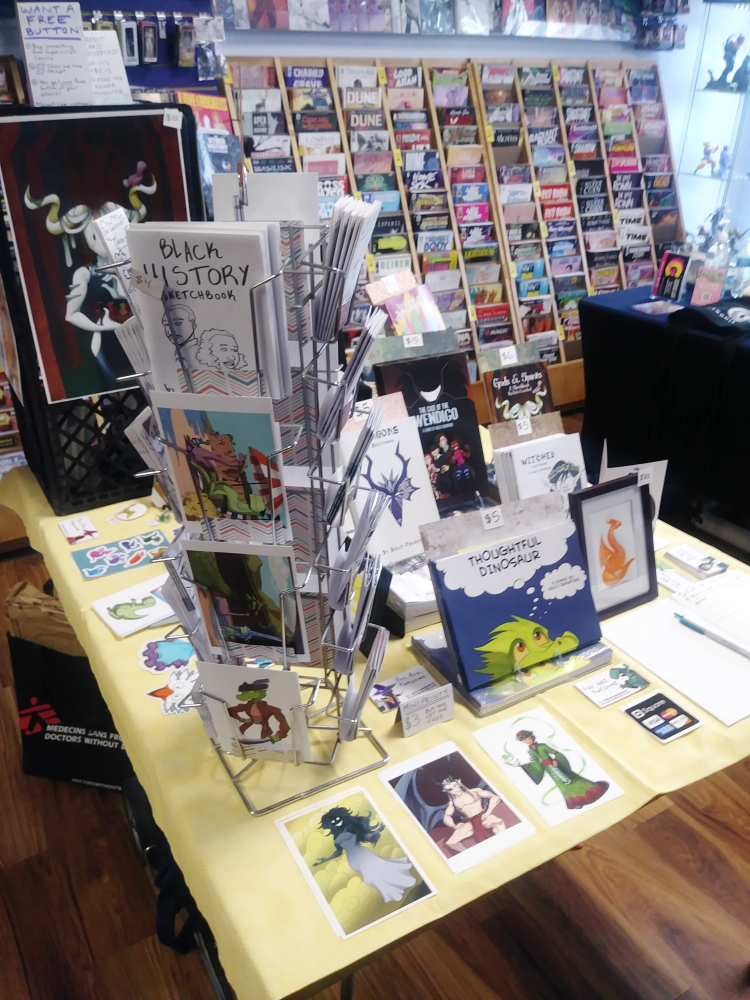 Now, Genghis Con is back for 2022, at the Pivot Center for Arts, Dance, and Expression in Cleveland, OH! The show runs on November 27 from 12 pm to 5 pm EST.
Yes, that IS the Sunday after Thanksgiving. It's been their date to organize since I first started attending the show years ago. Masks WILL be required at the venue.
What I'm Bringing
I'm bringing some sales items from Aistear Con 3 that did NOT sell out yet. And yes, I'm keeping the sales prices active on these things.
Here are the things I'm selling on CLEARANCE:
My remaining stickers are $1 each, or $5 for a sticker sheet
Greeting Cards are $1 each, with a free envelope. A bundle of 10 cards is $5 while supplies last.
Mr. Dino's postcards are $1 each. Proceeds will benefit the Zebra Coalition in Florida to help LGBTQ youth in a hostile state.
Prints smaller than 11 x 17 inches are now $1 each
Misprints of The Forest Spirit, an 11 x 17-inch print, are $5 each.
Grab bags are 2 for $5. Each grab bag has at least 1 sticker, 1 mini-print, and an extra couple of goodies.
My LAST Mermaid art piece is priced on a sliding scale. A $10 minimum is needed to cover art supplies.
If you buy The Legend of Jamie Roberts, Volume 1 (or its misprinted version), you get the Artifacts sticker sheet FREE.
I'm also bringing with me bagged and boarded original sketches at $10 each. This INCLUDES sketches made during the production of Witches, Gods & Spirits, and Dragons: The Sketchbooks.
For folks interested, I'm also running pre-orders for my new book, The Stars of Fantasyville: A Sketchbook, for folks who missed the KickStarter campaign. This will be kept simple – just $11 for the pre-order (that covers the book plus shipping). No extra PDFs or miscellaneous things, because those things are already on the table.
Plus! I'm bringing the remaining pins and zines left over from fulfilling Zine Club and Pin Club orders. My hope is by selling the remaining stock, folks get interested in signing up for the clubs. That way they get more delivered to their mailbox each month.
Before I Forget…
Since I'm at a convention, there will be no stream on Sunday (at least from me. What the Gnomes Know will be running streams). There won't be a stream the following weekend, either, because I'll be at GalaxyCon with the Columbus Cartoon Coalition.
That said, keep an eye on Instagram. I've been doing live streams there Fridays around 12 noon.
That's all for now. Hope to see you at Genghis Con on the 27th!
You. Are. Awesome.